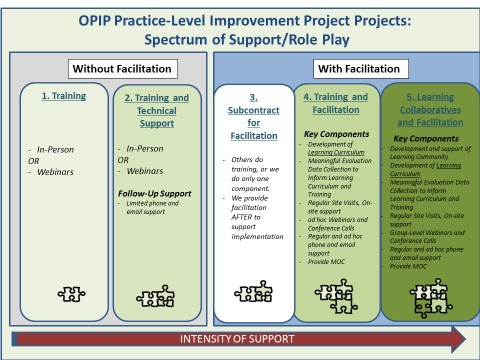 OPIP's Approach
Our staff incorporates evidence based quality improvement strategies with a focus on measurement and evaluation in order to improve pediatric healthcare quality in Oregon.
Our approach includes:
Learning Collaboratives
We utilize a modified version of the Institute for Healthcare Improvement's (IHI) Breakthrough Series Learning Collaborative model, bringing together a diverse group of practices that share in learning and improving around a topic. Participants attend a series of face-to-face learning sessions and virtual learning opportunities led by local and national experts, and work collaboratively over the duration of the project to test, share, and implement small and cumulative tests of change.
Practice Facilitation
OPIP provides practices real-time, on-the-ground support through practice facilitators. These individuals work to understand the unique dynamics of each practice, and use this information and a strength-based approach to provide what is needed to move toward improvement. This includes assessing practice workflows and processes, quality improvement coaching and planning, and assistance with data collection.
Consulting
With experience in healthcare quality improvement, healthcare services research and measurement, as well as evidence-based pediatric clinical practice, OPIP staff provide consulting services on a wide range of topics to a diverse group of associates. Our projects with state and national entities, managed care organizations, pediatric practices, and parents and families, have given us the opportunity to work at all levels within the healthcare system to inform and support evidence based improvement.
State and Local Partnerships
Through partnership with public and private organizations, OPIP works to cultivate and sustain improvement in pediatric healthcare. We work with state government, private companies, professional societies, and other state and regional entities to facilitate progress in our areas of focus.
Network
The National Improvement Partnership Network (NIPN) is a network of over 15 states that have developed Improvement Partnerships to advance quality and transform healthcare for children and their families. Vermont's Improvement Partnership, the Vermont Child Health Improvement Program (VCHIP), provides leadership to NIPN.
For further context and information on improvement partnerships, Click Here to access the article co-authored with OPIP and NIPN partners: "The National Improvement Partnership Network: State-Based Partnerships That Improve Primary Care Quality."
Additionally, an abstract summary may be accessed here: "State Partnership Supports Quality Improvement in Pediatric Practices, Leading to More Evidence-Based Care, Better Care Coordination, and High Satisfaction in Participating Practices." This abstract was published on the Agency for Healthcare Research and Quality (AHRQ) website on June 5, 2013.