Oregon is leading nationwide work in the innovative and active use of health complexity data to inform population-based needs assessment, galvanize improvement efforts, and ultimately develop best match care coordination strategies.
Children with Health Complexity (Figure 3) are those who are both:
Medically Complex (page 3 of the report), as defined by the Pediatric Medical Complexity Algorithm (PMCA), with a priority focus on children identified with "complex chronic disease" or with "non-complex chronic disease", AND
Socially Complex (page 4 of the report), defined by The Center of Excellence on Quality of Care Measures for Children with Complex Needs (COE4CCN) as: "A set of co-occurring individual, family or community characteristics that can have a direct impact on health outcomes or an indirect impact by affecting a child's access to care and/or a family's ability to engage in recommended medical and mental health treatments," predictive of high-cost health care events, such as emergency room use. Click here to view Oregon's data sources.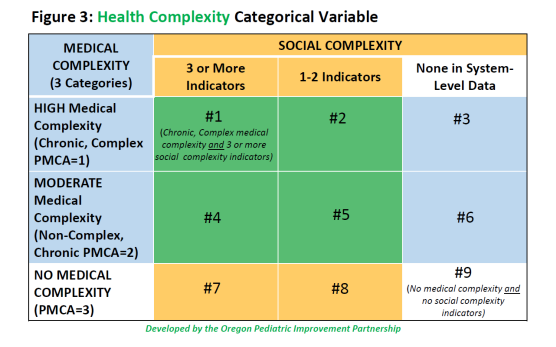 Credit goes to Dr. Rita Mangione-Smith, Vice President for Research and Health Care Innovation at Kaiser Permanente Washington, for spearheading the development of the PMCA and the concept of social complexity. Her passion for designing systems that work for children with complex health needs sparked a particular emphasis on how system-level data could be used to better identify which children could most benefit from limited complex care resources, and models for considering medical and social complexity risk factors. Click here read more about Dr. Mangione-Smith.
The Health Complexity data is intended to support understanding among Coordinated Care Organizations (CCOs), providers and communities who serve children and families of the impacts of health complexity and spur improvement efforts for wellbeing. For this reason, this data is publicly available and updated annually. Children's health complexity reports for 2021 have been posted to the OHA Transformation Center website, where you can access the following:
CCO-level data reports
County-level data reports
Reports from previous years are available as well. For more information about the reports and the updates and enhancements to the data, please see this cover letter from the OHA Chief Medical Officer and Director of Health Analytics or contact the OHA Office of Health Analytics at [email protected].

There are numerous ways that health systems can engage health complexity data within their communities to inform systems improvement, and innovative approaches continue to be explored across the state. Some examples include:
Using population-level findings to engage community partners in understanding child and family needs, identify community-level assets, and address capacity of services to serve children with health complexity.
Identifying areas of high-need with focused assessment of network adequacy
To drive program development, grant-based investments & staff trainings
Using population and child-level findings to identify opportunities to enhance care coordination and care management and community-based and centralized supports for children with health complexity
Informing efforts towards providing trauma informed and culturally responsive care
Exploring the role of health complexity in value-based payment models
In 2019-2020, OPIP was contracted with the Oregon Health Authority to provide technical assistance to Coordinated Care Organizations (networks of all types of health care providers, including physical health care, addictions and mental health care, and dental care providers, who work together in their local communities to serve people who receive health care coverage under the Oregon Health Plan).
Funding Note:
The efforts to understand and identify children with health complexity and integrate the use of health complexity in systems-level approaches to improving outcomes for children and families have been supported through grants from the Lucile Packard Foundation for Children's Health (LPFCH). Additional projects to leverage this systems-level are funded by The Ford Family Foundation.