OPIP is leading efforts to support communities and health systems in better serving health complex children. One strategy to support this population is in leading the development of standardized methods to identify children with health complexity and to support use of this population-based information to engage communities in galvanizing improvement efforts and considering best match care coordination strategies. Click here to learn more about health complexity data work at OPIP.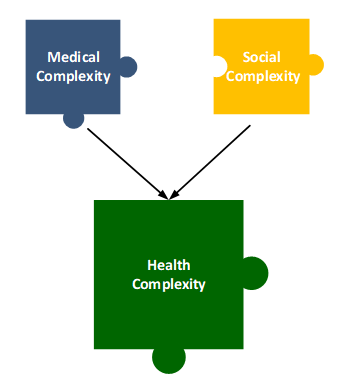 Children with Health Complexity are those who are both:
• Medically Complex (Page 3 of report), with a priority focus on children identified with "complex chronic disease" or "non-complex chronic disease", and
• Socially Complex (Page 4 of report), defined by The Center of Excellence on Quality of Care Measures for Children with Complex Needs (COE4CCN) as: "a set of co-occurring individual, family or community characteristics that can have a direct or indirect impact on health outcomes by affecting a child's access to care and/or a family's ability to engage recommended medical and mental health treatments".
This population- and data-based approach to identify children with health complexity was developed by OPIP, in collaboration with OHA, and derived from research led by Dr. Rita Mangione-Smith. Medical complexity is calculated using the Pediatric Medical Complexity Algorithm, a form of data analysis based on claims data of service utilization and diagnoses. And the social complexity indicators were operationalized using existing system-level data sources and derived from a list of social factors found by The Center of Excellence on Quality of Care Measures for Children with Complex Needs (COE4CCN) to be predictive of high-cost health care events or poor health outcomes. For further exploration of Oregon's approach, click here to watch the April 2019 Webinar: Maximizing System-Level Data to Address Health & Social Complexity in Children: Spotlight on Oregon.
Oregon's health complexity data is publicly available from 2018-2023 and have been updated annually in order to support the pursuit of best care for children and families across the state. Children's health complexity reports that were released in 2023 have been posted to the OHA Transformation Center website, where you can access the following:
Statewide report released in 2023
Coordinated Care Organization (CCO) level data reports
County-level data reports
OPIP has created the following related materials:
A slide deck summarizing the findings released in 2023.
A policy brief on why children with health complexity NEED to be a priority in health equity efforts, the risk of the data not being continued, and actionable steps for Governor Kotek and OHA's consideration.
OPIP Projects Engaging Health Complexity
OPIP has led, and is leading, a number of efforts around improving systems for children and families impacted by health complexity. This includes: